Central Otago is a region with extreme climatic conditions, and the Maniototo is no exception.
Clachanburn enjoys four distinct seasons. Many guests visit the garden in one season and on their return journey enjoy another, remarking how different the garden looks.
A beautiful season featuring many varieties of bulbs and blossoms. Prunus and Malus varieties continue to flower from early spring until early November. Many varieties of Irises also feature.
Clachanburn is often called an oasis in a desert, with our creeks and ponds as supplementary irrigation. The large number of roses and perennials flourish under these conditions.
The season for brilliant autumn colours of many deciduous trees - maples, rowans, poplars and willows. Shrubs that colour well include many viburnums, cornus and spireas. Central Otago enjoys splendid autumn colours.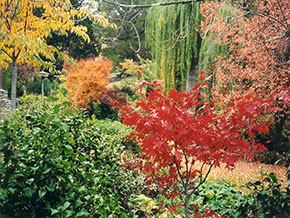 Known for hard frosts and clear sunny days. It is the season to enjoy the bare structure of the garden and trunks of trees as well as snow on the mountains. The gardener deserves a rest to enjoy plant catalogues and plan for the next season!