Clachanburn's location and how to get in touch.
Clachanburn sits amongst a cluster of the most diverse and unique landscapes, which comprise the Maniototo, now well know by Grahame Sydney's paintings. Also nearby is Ranfurly's Art Deco, historic township of Naseby now hosting a world class curling rink, nearby St Bathans and the Taieri River for good fishing.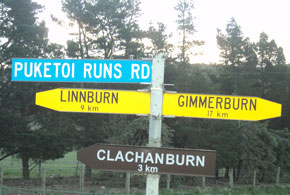 (Click to view map enlarged.)
From Queenstown and Wanaka by Bus 200 km approx 2 1/2 -3 Hrs
From Dunedin by Bus 170 km approx 2 1/2 - 3 Hrs
From Pukerangi / Middlemarch - to connect with Taieri Gorge train by Bus 110 km approx 1 1/2 Hrs

Travel from Ranfurly to Patearoa. At Patearoa cross Sowburn Bridge, continue 1/2 km then 1st turn right. After 200m take 1st turn left, cross Taieri River, drive towards hill (Rough Ridge) and at T-intersection turn left. 'Clachanburn' is 3km along, on right side of road. Signposted south of Patearoa.
Email: clachanburn@xtra.co.nz
Tel: 03-444 7501
Post: Clachanburn, Patearoa, RD 4, Ranfurly 9398, Central Otago, New Zealand
Alternatively, please submit your details in the form below and we will contact you as soon as possible: