Accommodation
Staying at The Clachanburn Garden Cottage.
The cottage originally was situated on Puketoi Station (4 km north) and was used as the station's shearers' quarters. After World War I the station was divided for returned servicemen into many farms of which Clachanburn was one.
In 1939 Puketoi sold the cottage to the owners of Clachanburn and Awatere (the adjoining farm) and they cut it into two portions.
The original building was built of Heart Rimu. It contained the current sitting room and main bedroom, and another large room in which early residents can remember dances. Most of the time this room would have been the dining room for the shearers.
Following the arrival of part of the original cottage onto its present site, the second bedroom, kitchen, washhouse and bathroom were added.
The cottage was first occupied by rabbiters and it is amazing that in those early days more money was made from rabbits than wool!
Subsequently the cottage has housed married couples, shearers, single men and even Jane's shop!
In 2003 we began to provide accommodation. We were mindful of enhancing the original features with the addition of kitchen appliances, a new shower, good heating, bedding and linen, while maintaining a warm and inviting ambience.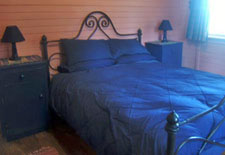 The original building was a replica of Robert Burn's very own cottage in Scotland. "Clachanburn" is Gaelic for Stoney Creek, which is the name of the creek flowing through the property. Charles and Jane are of Scottish descent and our families have lived in Otago since it was first settled.
Welcome to our Garden Cottage, featuring its own courtyard and petanque court. We hope you will enjoy your visit.
Accommodation prices begin at $175.00 per night.
Clachanburn Breakfast is available on request: $15.00 - includes Fruit/Cereal/Toast/Organic Farm Eggs.
Winter bookings May - August: Minimum stay 3 nights.
Sorry no dogs allowed.
Please contact us to make a booking.